West Midlands Tel. 0121 704 1016 Email: info@abcphotos.co.uk
Cheshire Tel. 07734 30 77 68 Email: cheshire@abcphotos.co.uk
Bedfordshire Tel. 07929 597808 Email: luton@abcphotos.co.uk
Buckinghamshire Tel. 0757 077 8000 Email: janet@abcphotos.co.uk
London SW Tel. 0744 2978 400 Email: gihan@abcphotos.co.uk
Northamptonshire Tel. 0784 7013727 Email: kirit@abcphotos.co.uk
ABC Photography have studios in West Midlands, Cheshire, Bedfordshire, Buckinghamshire, London SW and Northamptonshire. We are Mobile Photographers that specialise in photographing thousands of pre-school children and babies in Nursery Schools, Playgroups and Mother & Toddler groups throughout the UK, every year.
What makes us different to most other photographers is the fact that we take three different poses of each child. We then produced a package of photographs consisting of one 9" x 6", two 6" x 4" and four 3" x 2" photographs of each of the 3 poses. This gives a total package of three 9" x 6", six 6" x 4" and twelve 3" x 2" photographs, which we sell for just £35.00.
We don't produce proofs because it creates more work for our customers.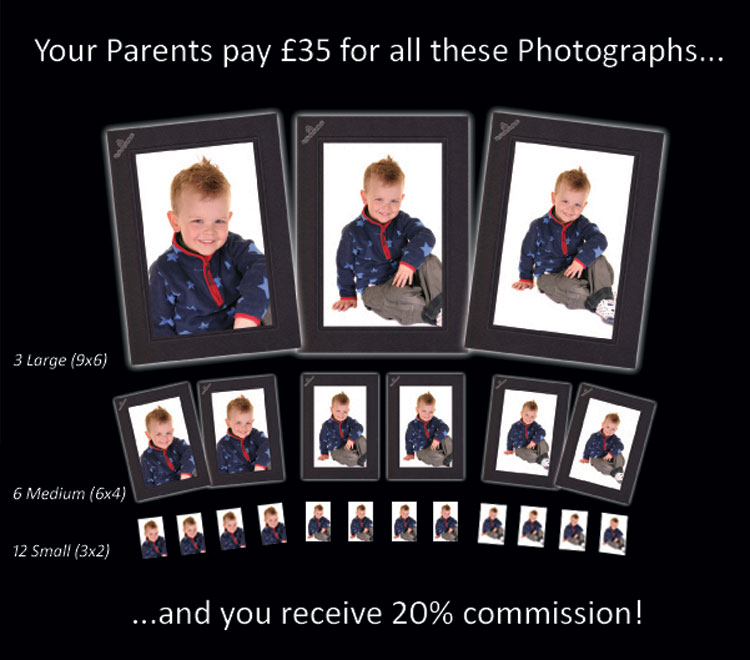 By producing packages on a sale or return basis, our customers say it makes the process a lot easier and quicker for their staff and management alike.
Other options from the pack are:
Three 9" x 6" and six 6" x 4" photographs for £30.
Two 9" x 6", four 6" x 4" and eight 3" x 2" photographs for £30.
One 9" x 6" , Two 6" x 4" and four 3" x 2" photographs for £25.
For parents on a budget:
One 9" x 6" for £15 or two 6" x 4"s for £15
The parents choose which package suits them best!
All the packages are produced on a sale or return basis, The nursery will receive 20% of all package sales, subject to terms and conditions.
The photographs are delivered back to the nursery, personally, by the photographer within 7 - 10 working days.
14 days later, we will collect the payments and returned photographs, from you and pay any commission due. For a chat with one of our photographers
Why not call:
West Midlands Tel. 0121 704 1016 Email: info@abcphotos.co.uk
Cheshire Tel. 07734 30 77 68 Email: cheshire@abcphotos.co.uk
Bedfordshire Tel. 07929 597808 Email: luton@abcphotos.co.uk
Buckinghamshire Tel. 0757 077 8000 Email: janet@abcphotos.co.uk
London SW Tel. 0744 2978 400 Email: gihan@abcphotos.co.uk
Northamptonshire Tel. 0784 7013727 Email: kirit@abcphotos.co.uk
We will be more than happy to visit your nursery and show you a sample pack.